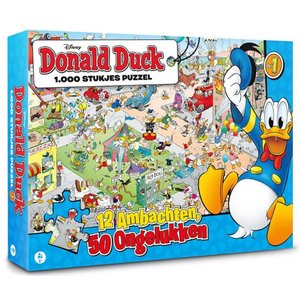 Add to cart
Donald Duck - 12 trades, 50 accidents - jigsaw puzzle of 1000 pieces
Donald Duck - 12 trades, 50 accidents
This can only happen to Donald Duck. In this puzzle Donald starts working as a policeman, pizza-baker, painter, firefighter and many other trades.... but everywhere something goes wrong!
Gratis verzending vanaf €50,00.
Ordered on working days before 12h noon, delivered next working day in BE-NL.